The Ebony Project: Transforming a Saw Mill (5)
August 6, 2020
Historical Challenges of Forestry in Cameroon
In Cameroon, as with many parts of the world, many issues have hindered the ability of forest-dependent communities to reap the social and economic benefits of traditionally used forest resources. All too often, the dominant business model has been based on the extraction of raw resources for further value-added processing in factories in other countries. This approach is based on pushing raw material prices down, which often has enabled over-exploitation of the resource, along with low wages, and corruption. The lack of in-country investment and transfer of technology has also frequently prevented countries from providing increased employment opportunities and deriving greater wealth by producing a further refined product.
A Plan for Improvement at the Mill
As new owners of the Crelicam mill, Bob Taylor and Vidal de Teresa confronted many issues that needed urgent attention. The buildings and equipment at the mill were in disrepair, a fact that became even more apparent during Yaoundé's seasonally frequent rainfalls. Between faulty electricity, a lack of training, and poor sanitary conditions, it was nearly impossible for employees to properly process wood. As a result, there was considerable waste and compromised safety. Employees were not paid well. Most didn't have lunch to eat, and there was no access to clean water.
Bob and Vidal laid out their vision for improving the working conditions to employees. They announced that everyone's wages would be doubled. They developed an action plan for upgrading working conditions. They explained how the wood processing skills they were acquiring would make more from less. They shared plans to build a cantina to provide free lunch and drilled a well for fresh water — water that is also piped outside the walls of Crelicam, providing a source of free clean water to the community of Odza, where the factory is based.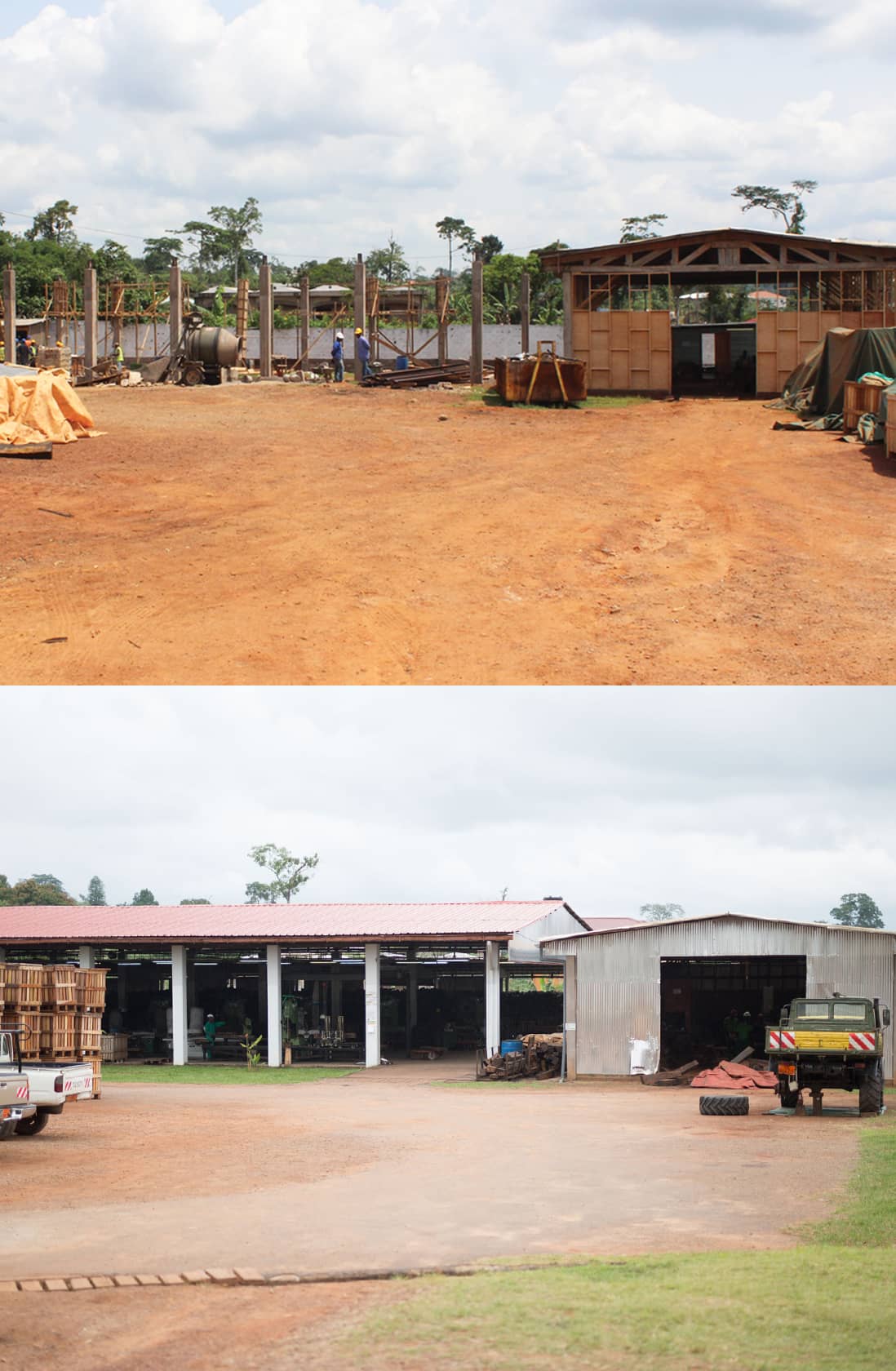 Slow, Steady Transformation
When it came to building a successful factory operation, Bob drew from more than four decades of experience. He had transformed Taylor Guitars from a small shop to a world-class guitar production facility at Taylor's headquarters in El Cajon, California, and designed Taylor's second production complex in Tecate, Baja California, Mexico. But as he would quickly learn, trying to make improvements at Crelicam was an entirely different endeavor — nearly everything they needed to improve the mill would have to come from outside the country.
Bob and Vidal leveraged their respective teams and resources back at Taylor and Madinter. They enlisted their machinists and tooling engineers to help with everything from refurbishing band saws to designing and building new tools and machines that were shipped to Cameroon. Teams from Taylor and Madinter began traveling to Yaoundé regularly to install and maintain machines and train Crelicam's growing workforce. On a day-to-day basis, however, the company was, and still is, run by Cameroonians.
In addition, new buildings were constructed, and the grounds were landscaped to provide better logistical capabilities. The mill was renovated to feature concrete floors, and reliable electricity was installed. New kilns were designed and installed to properly dry ebony. New dust collectors for the band saws were installed to create a cleaner working environment. Eventually, even an ebony plant nursery was established, inadvertently planting the seed for a future restoration project that no one had yet imagined.
Over time, the Crelicam mill has gradually undergone a remarkable transformation into a more advanced wood-processing facility, always striving to create jobs and to make more with less.
Video: Transforming Crelicam
The Award for Corporate Excellence
Our efforts to transform Crelicam and the ebony trade in Cameroon were recognized by the U.S. government with the Secretary of State's 2013 Award for Corporate Excellence (ACE). The annual award recognizes U.S.-owned businesses that play vital roles around the world as good corporate citizens in supporting sustainable development, respect for human and labor rights, environmental protection, open markets, transparency, and other democratic values.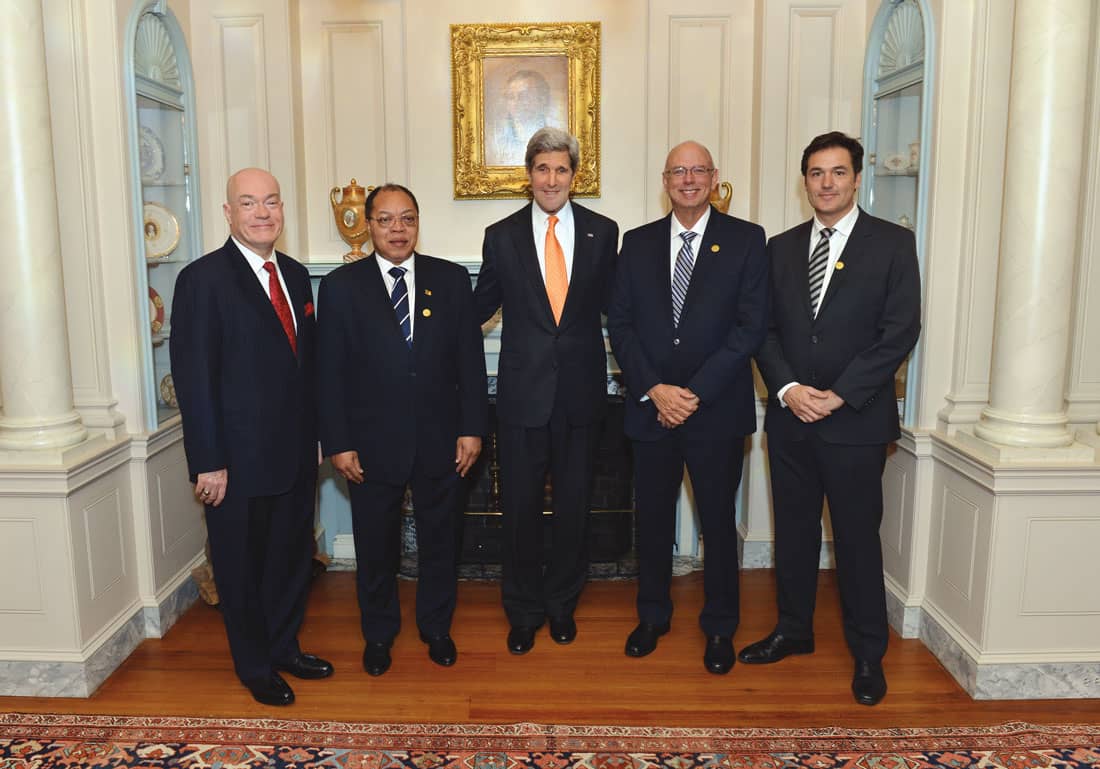 At a ceremony in January of 2014, held at the U.S. State Department in Washington, D.C., Secretary of State John Kerry presented Bob Taylor with the award, which acknowledged "environmentally and socially responsible sourcing, harvesting, and milling of ebony, including conserving ebony stocks by raising consumer awareness; enhancing local incomes by hiring local workers; training workers to use state-of-the art equipment; and encouraging Cameroonian legal and policy reforms to improve transparency and traceability of logging permits and respect for the rights and needs of other forest users."
Entire blog post reproduced from: https://www.taylorguitars.com/ebonyproject/transforming-a-sawmill/